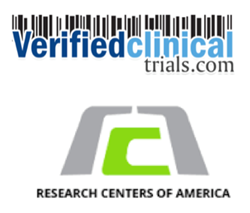 We are grateful for this innovative resource and the real-time responses that have helped us avoid duplicate enrollment in our clinical trials. We are truly impressed with the staff at VCT and their readin.ess to help at every step of the process
GARDEN CITY, NEW YORK (PRWEB) APRIL 04, 2017
Research Centers of America (RCA) outpatient and inpatient sites specialize in Phase I-IV clinical trials for all diagnoses in various ages ranging from adult, geriatric, child and adolescent groups. Facing challenges of duplicate enrollment and professional research subjects joining multiple research studies in parallel or simultaneously, RCA has enlisted the help of Verified Clinical Trials. During the very first verifications, attempts at duplicate enrollment were thwarted saving the site and sponsor valuable time and money.
Like many other regions, South Florida has multiple research sites in close proximity and issues with research participants visiting multiple research sites contemporaneously. Furthermore, a review of Verified Clinical Trials data reveals that research subjects are willing to travel long distances for access to study related healthcare and stipends. Without a tool like the VCT clinical trial research subject database registry there would be no way to detect or prevent these issues.
Mitchell Efros MD FACS, CEO stated "We are very focused in establishing our stamp in psychiatry clinical trials as well as in the South Florida region. Both are at high risk for duplicate enrollment in clinical trials and protocol violations secondary to past study participation. Research Centers of America has made an important step to protect the quality and safety of their clinical trials by joining the research subject database registry Verified Clinical Trials."
Kerri Weingard ANP COO added, "On the very first day Research Centers of America prevented ineligible research subjects from joining their trial prior to a costly screening saving time and money while potentially reducing placebo rates for the sponsor. "
"We are grateful for this innovative resource and the real-time responses that have helped us avoid duplicate enrollment in our clinical trials. We are truly impressed with the staff at VCT and their readiness to help at every step of the process" said Lisa Nguyen, PsyD COO of Research Centers of America.
About Research Centers of America
RCA is one of the leading research companies in South Florida working with pharmaceutical companies to help identify new treatment options. The outpatient facility spans over 5000 sq. ft. and is directly located across from Ventre Medical Associates (VMA), a large outpatient clinic consisting of 7 psychiatrists, 5 mid-level clinicians, and various support staff.
RCA's largest source of study participant referrals are originated by VMA clinicians and staff as they are affiliated with several IOP/PHP/PSR programs, Assisted Living Facilities, and contract with Broward Health to be the sole provider of behavioral health services at their two largest hospitals in Broward County. RCA conducts inpatient clinical trials at a nearby hospital, located within miles of RCA's main outpatient clinic.
About Verified Clinical Trials
Verified Clinical Trials is a forward thinking company developed by experts active in the clinical research community to proactively improve research subject safety and data quality in clinical research trials. Verified Clinical Trials defines itself as the world's leader in the field of database registries in clinical trial research. Verified Clinical Trials is the only clinical research database registry designed specifically to enhance the quality of both early and late phase trials and has the scalability to reach all sites nationally as well as on a global level. Verified Clinical Trials offers numerous other value added services to the clinical research site, CRO, and Pharmaceutical Sponsor, that prove invaluable with regards to financial and legal issues and liabilities. For more information, visit http://www.verifiedclinicaltrials.com.